Case: Ilola Inn
Ilola Inn boutique hotel opened its doors at Sysmä in the summer of 2020. The hotel's beautifully decorated rooms are all equipped with individual bathrooms and have spectacular views over the lake Päijänne. Ilola Inn has a multitude of services to offer for boaters coming in from all corners of lake Päijänne. The large and sunny terrace of the cafe-restaurant has its own whirlpool which blends in smoothly with the marina for boats and yachts. The spa-sauna of Ilola Inn provides an indulging experience with direct views of the lake Päijänne. The terrace of the spa-sauna has an outdoor swimming pool while a dip in the lake Päijänne is also an option
More information: www.ilolainn.fi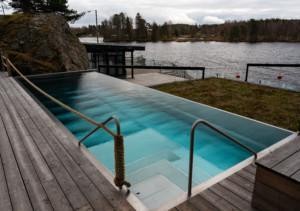 High Metal Oy designed and manufactured the 10×4-meter stainless steel infinity pool of Ilola Inn.
Water handling and the related technology was supplied by Suomen Allaslaite Oy  www.suomenallaslaite.fi
" The swimming pool project was an integral factor for the hotel's spa-like atmosphere along with the saunas. We wanted the pool to be the best on the market. After reviewing the alternatives, High Metal Oy's stainless-steel solution was chosen. The choice was based on the pool's feasibility and adaptability to our specific needs, on its easy and quick installation, on the durability and practicality of the material and on the high quality and elegance of the product. The project itself progressed smoothly and our plans were swiftly realized. The references which were shown to us at the factory facilitated choosing our options even more.
The final result is exactly what we were after in the first place. The pool blends in nicely with the surrounding environment and its polished quality complements our luxury hotel brand.
The timetable of the project was very challenging with only a few months from designing to installation. COVID-19 set its own challenges for the inauguration of the hotel, but eventually we managed to get the pool ready for the summer season", recounts Jyrki Pulkki from Ilola Inn.
Do not hesitate to contact us if you are interested in High Metal Oy's designing, manufacturing and installation services.

Project Manager, High Metal Oy

Mikko Marjosalmi   mikko.marjosalmi@highmetal.fi    Tel: +358 40 730 3331