Case: Rack carousel
Rack carousel dishwashing system #20 in test run stage at High Metals premises in Vantaa.
Customer is Metos Oy Ab, and system will be installed later this year in Savo Vocational college Kampus in Kuopio, Finland.
This carousel project consists of 22 racktrolleys which are continiously running from dish returning area through separate pre-rinsing unit WD PRM 60, through dishwashingmachine to unloading area. And back to returning area.
While personnel is needen only for unloading clean dishes from racks, with this system only 1 person can handle dishes from hundreds of meal guests per hour.
Racks can be adapted for washing of all type of dishes, including trays and cutlery.
In larger systems (>1000 persons/hour), separate tray- and cutlery washing lines are easily adapted.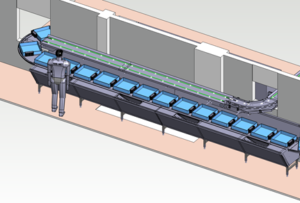 While several persons are able to return their dishes at the same time, the returning is smooth and no quees occur. Much nicer for customer.
Waste removing and dewatering spiral.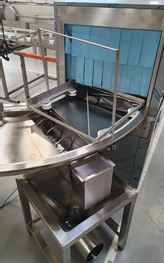 Basin is continuously cleaned with brushes.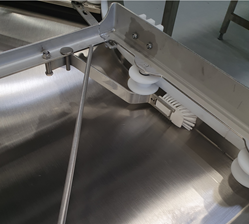 Food residues are transported by thin waterfilm and rubber scraper to waste spiral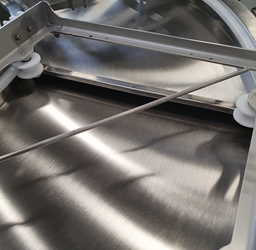 Watch video of rack carousel testing in our factory.
Do not hesitate to contact us if you are interested in High Metal Oy's designing, manufacturing and installation services.
Sales Manager, High Metal Oy
Mr. Paul Lahtinen   paul.lahtinen@highmetal.fi    Tel: +358 400 421 973