Case: Valo Hotel & work
VALO Hotel & Work is a novel concept for a business hotel with 24/7 services. The hotel's 422 rooms are transformed into working spaces during daytime, offering its clients flexible and versatile working environment with all encompassing hotel amenities. Inspiring event and conference premises enable private meetings as well as gatherings for larger groups of people. The luxurious customer experience is completed by unique restauration and well-being possibilities.
The first VALO hotel was completed in early autumn 2020 at Helsinki's Mannerheimintie. More info can be found at: www.valohotel.fi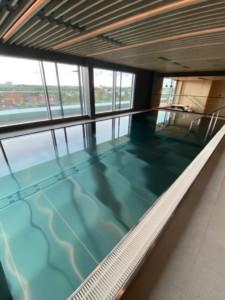 High Metal Oy designed and manufactured a 9m x 3m stainless-steel swimming pool and a circular 4m stainless-steel whirlpool for VALO Hotel & Work's wellness area.
Water handling and the related technology was supplied by Suomen Allaslaite Oy www.suomenallaslaite.fi
"The project went smoothly. High Metal's customer service and their ability to find solutions to the customer's needs were on a very high level," recounts VALO's Project Manager Hannu Riikola.
"The pools were delivered on time and the installation went according to our plans."
Do not hesitate to contact us if you are interested in High Metal Oy's designing, manufacturing and installation services.

Project Manager, High Metal Oy

Mikko Marjosalmi   mikko.marjosalmi@highmetal.fi    Tel: +358 40 730 3331