Case: THL autopsy tables
The forensic operations of the Finnish Institute for Health and Welfare (THL) in Helsinki are being transferred from Kytösuontie to a new building on the Tilkanmäki campus.
The new premises in the K building, where the deceased are handled, simply radiate newness and brightness.  In the post-mortem examination rooms, High Metal installed autopsy table systems equipped with the latest technology and ergonomic design, as well as storage systems for the deceased.
Post-mortem examinations are carried out in five separate rooms, and we supplied a total of 10 table systems for them. Among the features of the table systems are a wide range of lifting and lowering functions, the tilt function of the assistant's table and an integrated weighing system for both tables with a user-friendly interface. The system can also be connected to the most well-known databases (SQL).
In this case, the information about the person can be automatically transferred to the customer's information systems.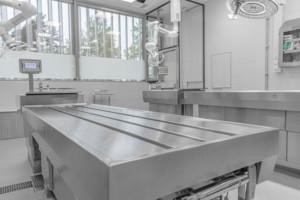 The system we provided for storage of the deceased included space for a total of 220 deceased persons. The storage system is modular and can be easily modified as needed. The deliveries to the K building were completed at the same time as the autopsy table deliveries. The storage system is designed to enable plastic gutters and wheeled gutters to be used simultaneously at different shelf levels. In designing the system, we paid special attention to ease of washing and hygiene.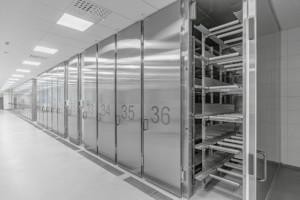 "The features of the equipment, ergonomics, hygiene, automation and maintainability played an important role when the customer was making the decision on purchasing. We were able to meet these requirements through customer-oriented service and innovative design expertise," says High Metal sales manager Jussi Heiskanen.
"There were no surprises during the project and it was completed within the agreed schedule," adds Jari Pulliainen, THL's technical expert for the project.
Overall, the collaboration in the alliance project was excellent, due to the clarity of the tasks involved and NCC's carefully prepared project schedule.
Read more about our health technology solutions »
Contact us to learn more from a High Metal expert:
Jussi Heiskanen
Sales Manager
+358 400 405 122
jussi.heiskanen@highmetal.fi