Case: Sorting carousel in staff canteen
High Metal manufactured a dishwashing system for Metos Oy Ab with two complete washing lines. The total amount of Metos WD dishwashing machines in the system is 8.  Installation was performed during December and trial runs were conducted in the beginning of January 2021.
Rack carousel-type dish returning system allows up to 20 persons to return their dishes simultaneously. While the customer is sorting dishes directly into the racks, the dishwashing system with integrated biowaste-handling runs with max. 3 persons' washed items.  Trays with cutlery are placed on a polycord conveyor, which transports them to their own washing machines.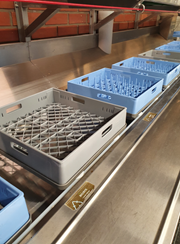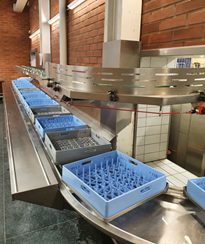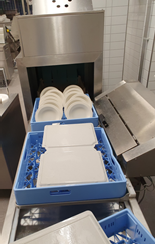 Machines in this system are:
2* Metos Pre-rinse units
2* Metos PRM 60 pre-rinse machines
2* Metos WD 421 rack carousel machines with T60 drying zones
2* Metos WD 40BRE tray washing machines with tray exchangers
2* Metos WD ACS 47D cutlery washing machines
2* Metos ACS 800 cutlery sorters
2* Metos Tray exchangers
2* Metos WD 100GR pot washing machines
Dishwashing system is maneuvered and user informed via a large Siemens touch screen. Colors and clear texts make it very simple to use.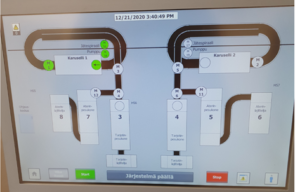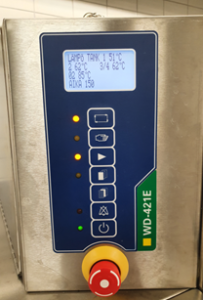 Trays and cutlery are separated to their own washing lines using a High Metal developed gravity separator, which also allows the use of non-magnetic cutlery.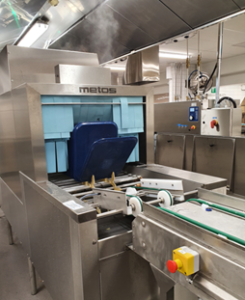 " Designing a dishwashing system with several special machines is quite complicated. Rack, cutlery and tray conveyors are tailored to fit the given area and desired functions, which means they have a large role in the final washing result. High Metal's long experience and strong knowledge in large scale dishwashing systems supported the project in the best possible way.  Potential bottlenecks where recognized and solved pro-actively during the designing stage. Project management with the right number of check-points combined with professionals performing the mechanical and automation installations ensured that starting the system took place on the date agreed. High Metal's strong engagement during the start-up and the competent training of users ensured a problem-free commissioning. I am very pleased with the performance and especially with the final result."
Tells Mr. Kari Pusa, Sales manager at Metos Oy Ab
Do not hesitate to contact us if you are interested in High Metal Oy's designing, manufacturing and installation services.
Sales Manager, High Metal Oy
Mr. Paul Lahtinen   paul.lahtinen@highmetal.fi    Tel: +358 400 421 973